So you come to this page because you have many questions and doubt about MissPeachy IPL laser hair removal. Let's guess what's your question. Does MissPeachy really work? Does the treatment hurt? How long does it take for this IPL device to permanently remove hair...
We understand it's hard to trust an unfamiliar product that sounds too good to be true. So we asked some of our customers to record their experience of using MissPeachy for a month and more. Here you will see how they got on and what the results have been like so far...
Note: The following are honest reports documented from our real customers. These photos are shot by them before each time they shave their treated areas and use MissPeachy.
Tabitha's underarm hair removal diary
Tabitha has very very sensitive skin. She is a daily shaver who shaves armpit hair every two or three days. "I felt so tedious, of course! But I have no better option", she explain, "I also tried to wax my armpits hair before but can't stand the extreme pain". Do you also have sensitive skin? Just move on.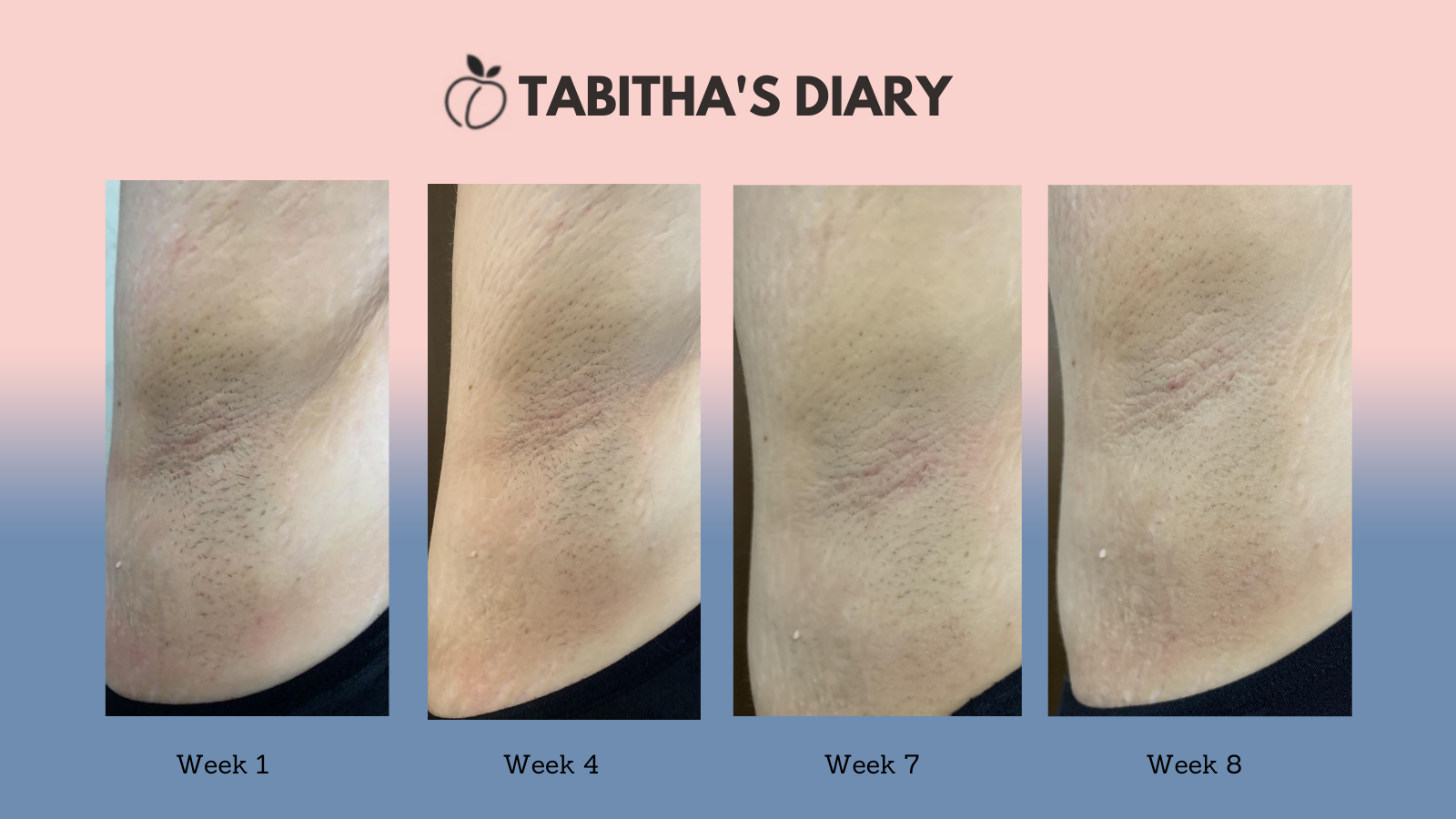 Week 1: August 3rd, 2021
For the first use, I was pretty terrified to use it. I was scared to get burned because I have very sensitive skin. The most I felt during the treatment was some warmth under my arm. I tried it at level 1 to start. I did the flashes 14 times. I was confused about how many times I needed to flash the area. I flashed the device once per area of my armpit. I feel skeptical that this device will be able to remove the hair follicles. I believe it would be helpful to include a video link where it is someone shows how to use the device properly. The packet has a lot of information. In these photos, is my right underarm. The other underarm has a larger mole on it, therefore, I cannot use it on that underarm according to the packet.
Week 2: August 10th, 2021
This time it was easier to use since I had experience using it a week ago. I did 6 flashes at level 5. I felt a little bit of a warm and stingy sensation, but it didn't hurt. They felt like tiny zapping. I do not visibly see any differences yet.
Week 3: August 17th, 2021
This treatment I did on level 4 because level 5 hurt last time with small stinging. This time, I did 38 flashes, at level 4. I only felt stinging towards the end. I still don't see any hair reduction yet.
Week 4: August 24th, 2021
This treatment I did on level 4, 49 times for flashing. Throughout the treatment, I felt stinging sensations on certain parts of the underarm. From the picture this week, it looks like some hairs may be shorter or take longer to grow than others. I have only been shaving under my arms every week before the treatment.
Week 5: August 31st, 2021
Level 4, 40 times flashing. I can tell the hair is taking longer to grow back. Still experienced a slight stinging feeling when on level 4, but I felt better than before. I noticed half of my armpit hair didn't grow at all and my underarm became smoother.
Week 6: September 7th, 2021
Level 4, 43 times flashing. The hair seems to grow thinner and softer. Felt stinging after 20 flashes.
Week 7: September 14th, 2021
Level 5, flashed 44 times, small stinging where flashes were. I can tell the hair is taking longer to grow back. Still experiencing a slight stinging feeling when on level 4.
Week 8: September 21st, 2021
Level 6, flashed on the area 41 times. Felt a lot of tiny stinging on this level. I am noticing the hair takes much longer to grow back, as the strands are shorter. I also do not have to shave as often as I used to. I will be using it on my legs on the higher levels to see if it works to reduce the hair there as well.
Anndrea's leg hair removal diary
As a woman with PCOS, Anndrea has thick hair on her legs, arms, and face. She had to shave her legs almost every day because the hair grow back so fast. She described: "I considered about permanent hair removal like laser and dreamed of smooth and hair-free skin. However, I couldn't afford it". Are you suffering from PCOS facial hair or body hair? Anndrea's experience would be helpful for you.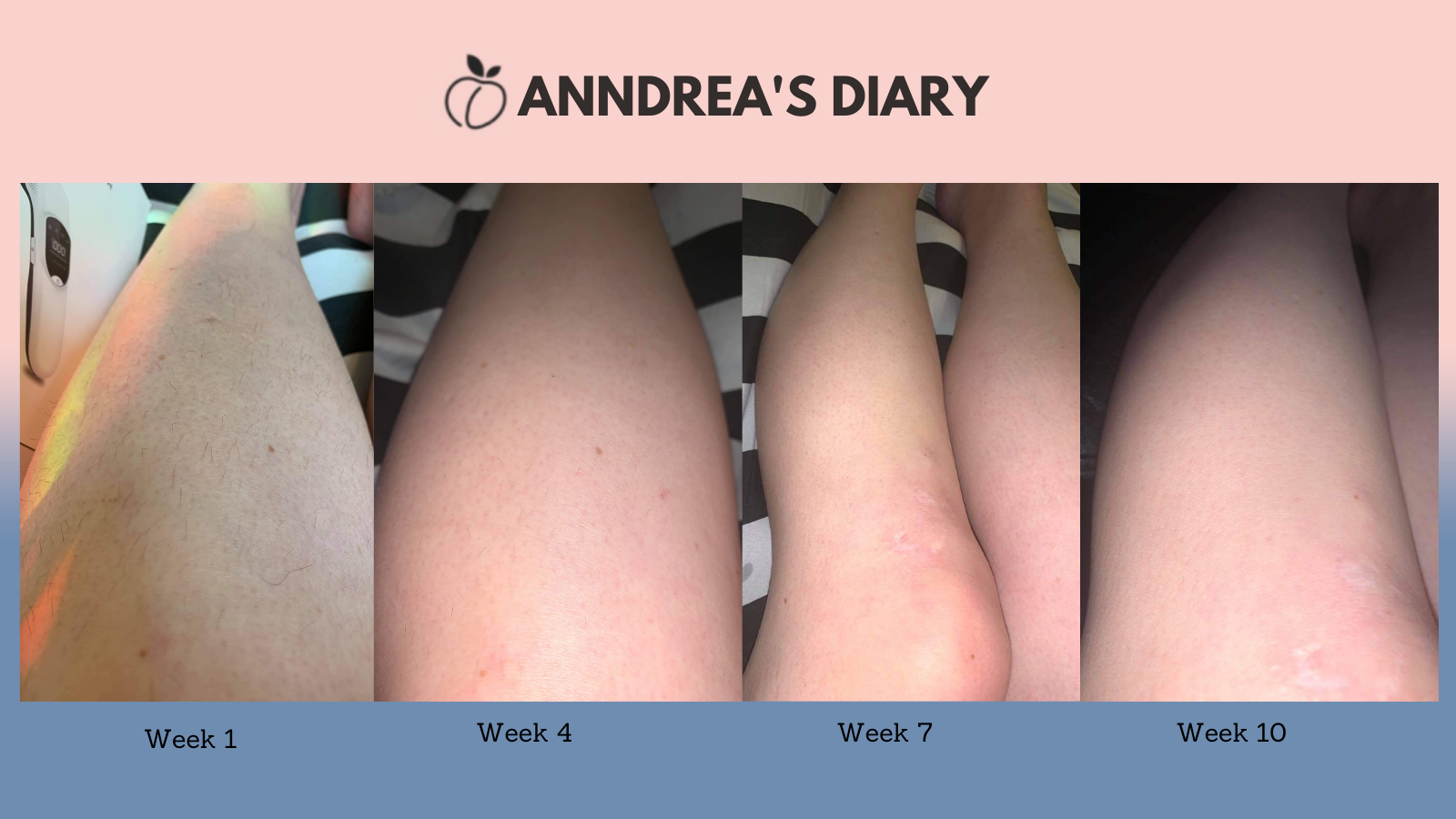 Week 1: August 4th, 2021
I was scared of the first light pulse to hurt and to my delight, it didn't! I felt the slightest bit of heat but that was all. I tried it on 1 but the device suggested 4 so I did the remainder of my legs on 4. There was no redness or irritation the following days. I did not moisturize as I didn't feel like I needed to.
Week 2: August 11th, 2021
I used level 6 because the max level stung more than I would have wanted so I will work my way up to max. I did my whole legs twice and didn't feel any discomfort or heat with the lower setting. I will work my way to max. I didn't notice any redness or sensitivity the following days of the first use which was surprising. I expected tenderness.
Week 3: August 18th, 2021
I used level 6 again because 7 was too hot every once in a while. Again, no irritation and no burns while on level 6. I noticed my leg hair seems much shorter than my typical 1 week's worth of growth so that's exciting. I will know for sure if it's still shorter before I do my 4th session. Legs feel really good, too! I didn't exfoliate other than shaving beforehand, and my legs feel much softer after treatment as if I did.
Week 4: August 26th, 2021
I did the treatment on level 6 again while I watched tv. I finish it must quicker than when I started. I use the automatic mode and move the device when it goes off. That has worked well for me. No discomfort still. I was smelling burnt hair after a while but didn't notice any burns. My hair is definitely growing back in many patchers than before and the hair itself is much shorter after one week of growth compared to usual.
Week 5: September 2nd, 2021
I can't believe it, my legs are STILL SMOOTH 7 days after shaving. There are a few tiny hairs here but for the most part, my legs feel freshly shaved. I couldn't even capture the hair that did grow because it was too tiny to see. I did my 5th session on level 7. I did notice my legs appeared very dry with dry skin on top of where I passed. They didn't feel dry but looked like they needed some lotion I did not notice that in the prior sessions so I wonder if it's from being o level 7. It was much more tolerable this time. My skin also feels extra smooth this week after using the device. As if I exfoliated but I haven't.
Week 6: September 9th, 2021
My hair has grown back even less than last time. Where there is hair growth, which is on only about 5% of my legs, the hair is so short, it's almost invisible. I have taken a video because I can't believe it!
Week 7: September 16th, 2021
My legs are still incredibly smooth, just as smooth as last week if not a little more so! I shaved before my session as always but honestly felt like I didn't need to, because of the smoothness but there are still small patches with the tiniest of growth here and there so I shaved my entire leg anyway, mostly to stay consistent. I have noticed when I missed a spot in the past that I would feel it but it wasn't bad at all so I wasn't worried about the pain of zapping a missed patch or two. I did this session while reading my kindle and I was surprised at how second nature this procedure has become. I have noticed now it being session 7 that the device smells hot a lot sooner than before and warms up in my hand a lot quicker than in earlier sessions. I wonder how many pulses the bulb is good for. To do both legs one time is about 350 pulses so I use about 725 every week doing my legs twice and my face. The device heated up around the 150 mark and almost got too hot to hold so I turned it off and kept reading, letting it cool down. That isn't a problem for me but hopefully, it isn't signaling it is close to its pulse limit. Waiting for it to cool didn't take too long and I was happy to wait, especially after feeling and seeing the results so far.
Week 9: September 30th, 2021
I have not seen any big changes from this session vs the last session. My legs are still pretty smooth with just a few rouge hairs I can feel poking up, which again, is incredible how short they are after 7 days. I used it on level 7 and did about 300 zaps with a break in between for the heat.
Week 10: October 7th, 2021
Nothing new to report from the last session to now. Legs are still about 98% smooth to the touch and look 100% shaved every day as the hair that is growing is almost invisible to the naked eye. The session was painless and quick and didn't dry out my skin like I heard can happen. I am loving the results so far. I will continue to use the device to get the last few to stop growing in.
Renna's Chin hair removal diary

Renna is a transgender woman who struggled with her thick beard, especially hair on the chin and neck. She has experience with facial laser hair removal in the past but she felt uncomfortable going to a clinic. "I wanna solve the beard shadow so I decided to try two laser sessions. However, I had an unhappy experience. It is hard to find a trans-friendly laser hair removal clinic. Most clinics have no experience with trans. Anyway, I have been treated as a man and felt so awkward." Renna said. Let's see what's her feels about using Misspeachy.


Read also: Everything about MTF laser hair removal
Week 1: August 30th, 2021
I tried my first session with level 1 and got up to level 4. It didn't turn over the curve of my face which was pleasant. My jaw and chin were much more sensitive than my legs to both the laser pulse and the warm glass plate of the device. Nothing unbearable, however. My face was a little flush when I was done but I put my PM moisturizer on and couldn't tell shortly after.
Week 2: September 6th, 2021
My second session went much like the first. I cranked it up to level 5 and did my whole face twice. There were a few times where I felt the heat really quickly but it was fine. It didn't prevent me from using the device further. My face was red like last time but nothing too bad. I shave my face daily.
Week 3: September 13rd, 2021
I shave my face every morning but this is the result of 2 days of growth after two sessions. I did not document the first two sessions however I will give my feedback anyway. I tried level 6 and it was very intense and very hot. I would say 7/10 on pain. The pain was quick and did not linger which was nice. Felt similar to being poked with a hot needle. It was however almost unbearable at points due to each pulse feeling like a hot prick so I couldn't do my entire face on 6. I turned it to 5 and had a much more pleasant time with no hot prick sensations. I want to use it in the highest setting I can handle so I will try 6 again next week.
Week 4: September 20th, 2021
One day almost 24 hours of growth. I used it on level 7 despite it burning pretty badly. I went over it again with level 6 and that felt much better
Week 5: September 27th, 2021
I waited 3 days until I took a photo because my hair growth was not significant after one day! It is remarkable that I went 3 days without shaving because I have shaved daily for the last 8 years! While my growth was still noticeable after 1 day, the length of the hair was much shorter than what I usually get. I have not noticed any reduction in the area in which the hair grows as I have on my legs (my leg hair is growing in in patches instead of uniformly which is great!) but I am hopeful that that will happen soon. I managed to do level 7 on 90% of my face this time despite it burning pretty badly but it's worth it if it does to my face what it did to my legs. I shaved your face on Sept 6th, @ 5 pm so I will compare the growth tomorrow at 5 pm.
Week 6: October 4th, 2021
I forgot to take a photo last session, I am so sorry! There hasn't been much change anyway but I will do better to remember to take a photo before my morning shave.
Week 7: October 11st, 2021
1 day of growth. It feels much less noticeable than the photos show as in it doesn't feel as much as it looks but there hasn't been much change the last few sessions in growth like on my legs nit I am still hopeful. I wonder if I am missing the growth stage that needs to be disrupted by the device and if I can do it more frequently on my face since I shave daily anyway.
Adam's arm hair removal diary
Adam feels thick body hair is unattractive. "I'm a gay who doesn't want to be hairy. My arm hair really bothers me a lot because I need to wear a T-shirt in summer", he said, "I often shave my arms before going outside but that takes so much of my time. I always accidentally scratch myself with a razor." Here is the hair removal experience Adam.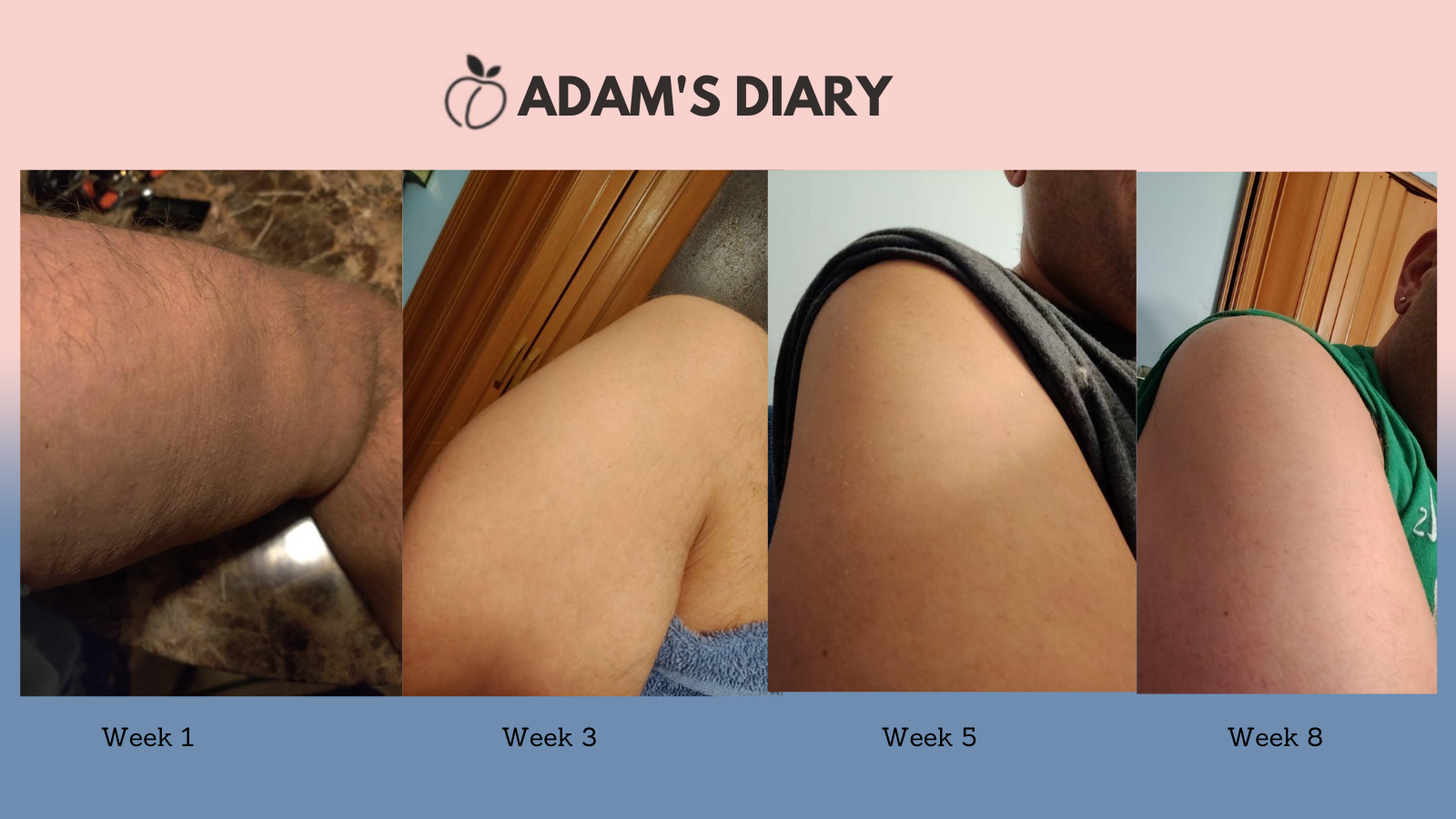 Week 1: August 2nd, 2021
The first time trying and well, I had on low setting, but I didn't feel anything yet although I did hear the sounds of the laser being used as if it was working.
Week 2: August 9th, 2021
For this session, I used level 5 which was a huge difference from level 1 when it comes to feeling the heat. I was hesitant at first with the first click because I wasn't expecting to feel, but after clicking a few more times. I got used to it. On level 5, you can certainly feel the laser working. But my arms feel fine, no pain although after using the product, I felt a little warming sensation for only a few minutes.
Week 3: August 16th, 2021
So today, I continued to use level 5. Still feeling the heat as last time, but I did notice one thing, I didn't get a lot of hair growth like I normally do when I need to shave or maybe I just never paid attention. I will continue to check on progress throughout the weeks. Nonetheless, I feel fine.
Week 4: August 23rd, 2021
Continued to use level 5, hair growth is minimal.
Week 5: August 30th, 2021
I am noticed minimal to little hair growth on a high level using 50 plus treatments.
Week 6: September 8th, 2021
Same treatment, and still showing visible results.
Week 7: September 16th, 2021
Noticing a huge difference 7th week(Normally my arms grow badly, I noticed it's not as much as before treatments). I lowered the temp to 4 but increased laser shots to about 50 plus.
Week 8: September 27th, 2021
Same application as last week. I feel fine, still. Very excited about this result.
Kendra leg hair removal diary

Kendra loves wearing beautiful dresses but she is not confident about her hairy legs. "I don't know if other people are like me. I'm always afraid that others will notice the hair on my legs although I just shaved this morning", Kendra explained. Do you have the same concern in summer? Let's get right into Kendra's results.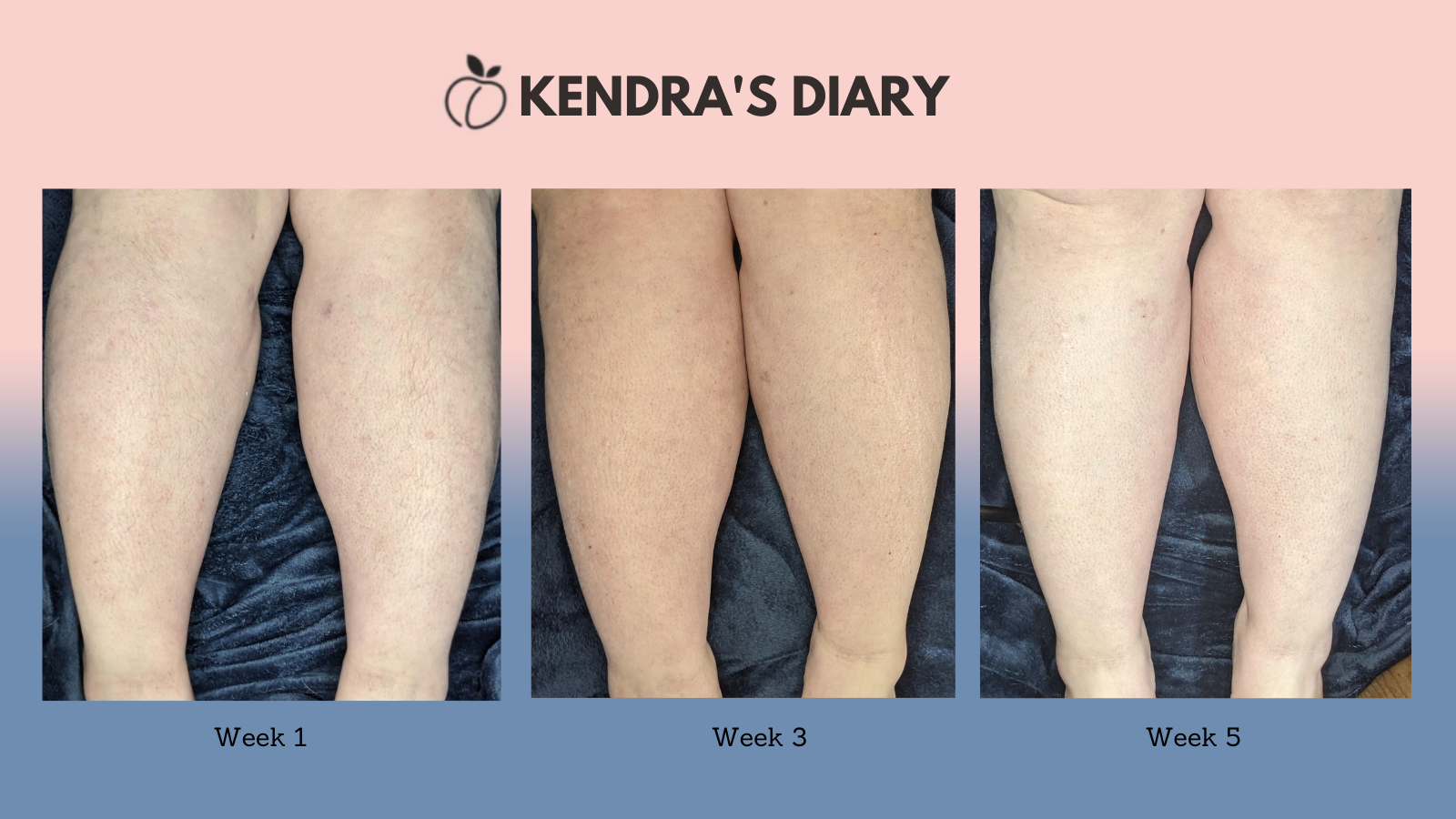 Week 1: August 5th, 2021
I'm very glad about the sunglasses, I didn't realize the flashes would be so bright. Only used level 1 this time, I could feel some warmth but it wasn't very hot. No pain at all. Will try level 2 next week.
Week 2: August 12th, 2021
I turned the power up to level 3 this time. Still not painful, but definitely warmer than level 1. I'm getting a better handle on maneuvering the device, I got a lot more flashes in this time - 243 on one leg, compared to around 150 last week. The hairs were much shorter this check-in than I normally expect from a week of growth. I'm impressed so far.
Week 3: August 18th, 2021
The stubble came back finer this week than last week. On recommendation, I did turn it up again to level 5 this time. Still not painful, but it's definitely hotter than level 3. I had to take a couple of short breaks as it was very warm. Also, note the bruise under my right knee from last week and this week is from a bug bite and has nothing to do with the IPL.
Week 4: August 19th, 2021
forgot to take a picture this week, but stubble came in at about the same length as last week, just thinner and sparser hairs. I tried level 7 but it was very very warm, so I backed down and did level 5 again for the rest of my legs. Not painful, but hot enough to be just a bit uncomfortable. I'll try it higher again next week! Still impressed with the hair reduction.
Week 5: August 25th, 2021
I skipped a week because I was sick, so it's a little longer but still not bad at all for 2 weeks of growth. The hairs are thinner and not so coarse even though they got a little long. because I skipped, I went ahead and did level 5 again. not painful at all, but very very warm. the device is getting easier to use with practice, and I'm getting a feel for how slow to move it to get even coverage of the flashes. My cats are very curious about the device, I had to shut them in another room today because I didn't want their eyes hurt by the flashes.
John's arm hair removal diary
John feels so annoyed with his hairy arms. He said: "I know it's normal for a man to have a thick beard and body hair. Some guys just don't care for it. But I used to hate my arm and leg hair because it looks unhygienic and disgusting. I usually shave my arms. But the hair grows so faster and thicker after shaving." Here's John's feedback: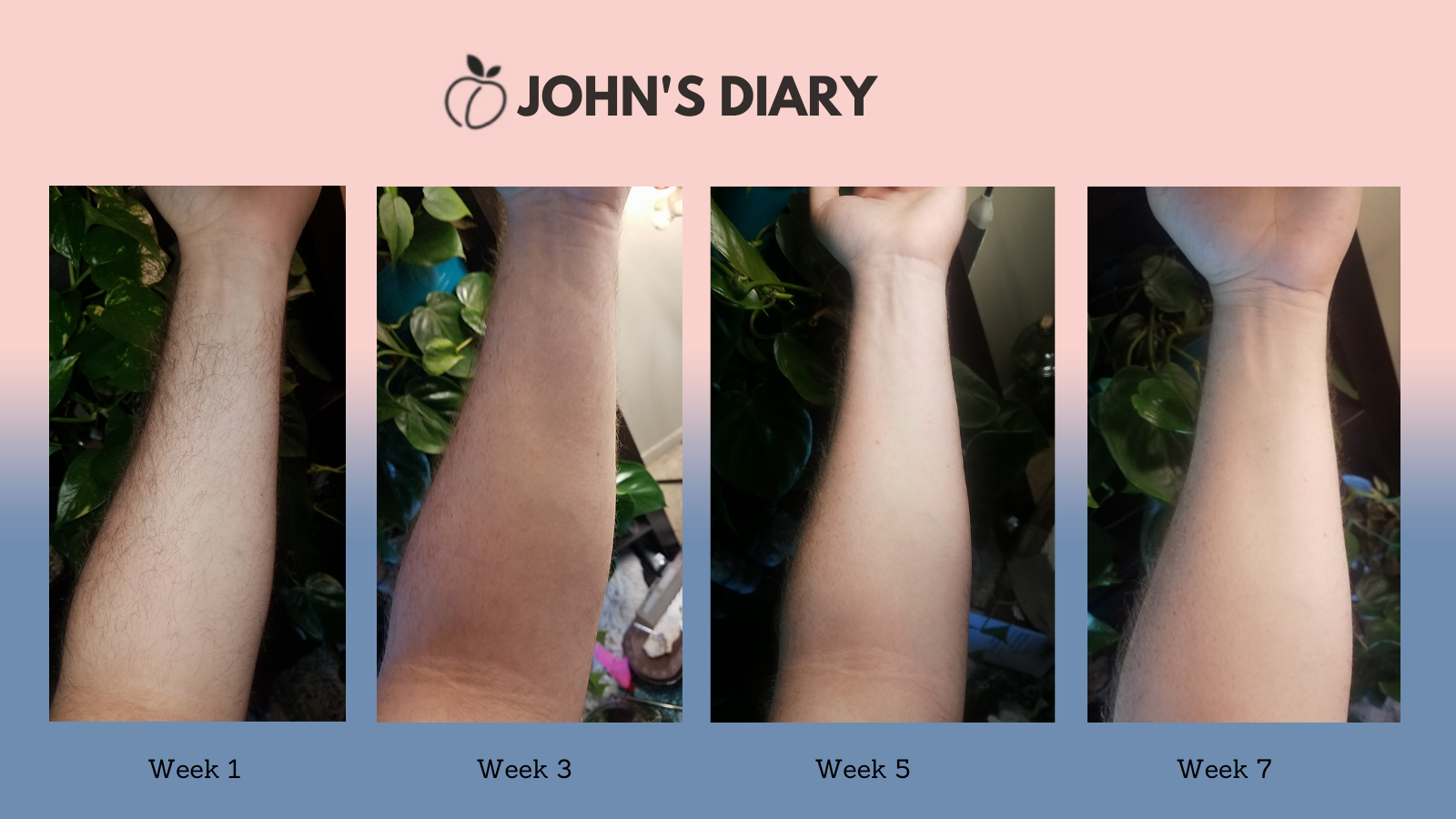 Week 1: August 8th,2021
Great treatment, no pain or anything! I used level 4 for around 2 minutes without issue. The safety glasses are a little cheap, and they don't feel very protective. I feel this device should come with safety goggles, not sunglasses as the sunglasses do not completely protect your eyes. I fear this product is damaging my eyes while I use it.
Week 2: August 15th, 2021
I again used level 4, and I did not experience any issues or pain. I used it for approximately 2 minutes on my arm. I can already tell that my hair is growing slower and slightly thinner after my first treatment.
Week 3: August 21st, 2021
I've noticed that the hair growing back has been slightly reduced, however, the hair growing back is significantly lighter in color. I'm fairly happy with that alone, given I had only done two treatments before the third one. I don't experience pain when I use this, but I used it for approximately 3 minutes on a level 4. I'm pretty satisfied with the results so far.
Week 4: August 28th, 2021
I stuck with my usual routine and did my treatment on a level 4 again, for around 3 minutes on my arm. When my hair was growing back, I noticed some spots remained entirely smooth and that the hair that is still growing back is finer in texture. Before when my hair would grow back, it would feel slightly prickly but now it is smooth, soft, and much finer in texture.
Week 5: September 4th, 2021
I used level 4 again, and my hair is still growing back but much finer, and some spots are completely bare. After my last treatment, my skin had a slight redness to it and it was dryer than usual. But other than this, everything went well.
Week 6: September 19th, 2021
I used level 6 this time, for around 6 minutes. I wanted to be sure I was getting really good passes as the results have improved a lot over my last couple of treatments. I'm not sure if my hair is gone forever or if it is going to regrow but much slower this time. Great results so far
Final words
If you are tired of having to constantly shave and wax your unwanted hair, it's time to consider IPL laser hair removal at home. Trusted by millions of customers worldwide, MissPeachy sells the most professional IPL laser hair removal device to remove unwanted hair from the face, armpit, bikini, vagina, upper lip, private part, chin, back, underarm, legs, Brazilian, etc. Our IPL hair removal handset has reached the FDA wavelength standard, which is completely safe and effective for at-home use.
Still not convinced? MissPeachy offers $100 off plus $20 off your first order. You can also enjoy a 90-day money-back guarantee, free worldwide shipping, and a 1-year warranty.