Unsuitable People
🙅🏼‍♀️ IPL devices work best on dark hair color and light skin color. It is not effective for use on red, grey, or very light hair (
peach fuzz on face
) and black or dark brown skin tone. Do not use the IPL device if your skin color or hair color is not suitable.
🙅🏼‍♀️ Not intended for use by children under 15 or pregnant and nursing women or during your period. Please put the product at the place out of the children's reach.
🙅🏼‍♀️ Not intended for use by people with disabilities and mental disorders. If necessary, please use it under close supervision.
🙅🏼‍♀️ Not intended for use by people with open wounds on the treatment area such as eczema, herpes, skin rashes, burns, folliculitis, ulcers, psoriasis, hematomas, skin lesions, etc.
🙅🏼‍♀️ Not intended for use by people with congestive heart diseases, immune suppression diseases, intravascular coagulation disorders.
🙅🏼‍♀️ Not intended for use by people with skin abnormalities caused by diabetes or other systemic or metabolic diseases.
🙅🏼‍♀️ Not intended for use by people with a history of skin cancer or potential skin malignant tumors.
🙅🏼‍♀️ Not intended for use by people who have recently used tanning products or facilities.
🙅🏼‍♀️ Not intended for use by people with photosensitive diseases, such as polymorphic light eruption, porphyria, systemic lupus erythematosus, solar urticaria, etc.
🙅🏼‍♀️ Not intended for use by people who have recently taken Aspirin, immunosuppressant drugs, isotretinoin, photosensitive drugs such as tetracycline and sulfa drugs, etc.
🙅🏼‍♀️ Not intended for use by people who have recently applied isotretinoin, Alpha Hydroxy Acid (AHA), Beta Hydroxy Acid (BHA), Azelaic Acid or essential oil products externally on the treatment area.
Operating Steps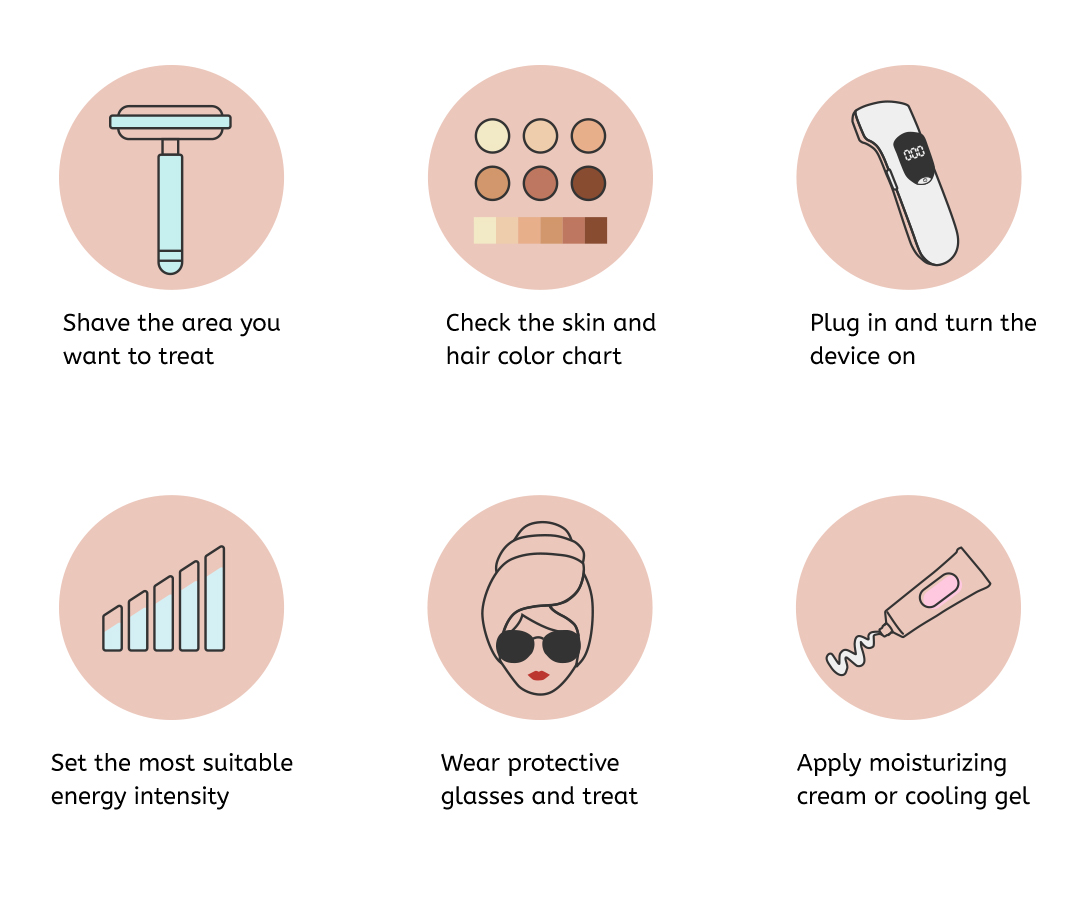 🍑 Start by Shaving
Shave the area you want to treat. Your skin should be clean and dry before each irradiation. If the depilated area is not clean, you may experience redness and burns and it will affect the effectiveness of the treatment.
🍑 Skin Color Detection
Check the skin and hair color chart to ensure that your skin and hair color are within the applicable range. Due to the risk of burns, please do not use the IPL epilator if you have very dark skins (Fitzpatrick Skin Tone VI) or the IPL epilator with the built-in sensor signals an error after detecting your skin tone and hair color.
🍑 Power On
Plug in the device and hold down the power button for 3 seconds to turn it on. If there is no further operation, the device will shut down automatically after a few minutes.
🍑 Set Energy Intensity
You can adjust the energy level according to your own tolerance capacity and different skin areas. The low energy level has lower heat and less irritation while the high energy level has a better effect but more pain. Choose the energy level that fits you most but it is highly suggested to start from Level 1 to get used to the intensity of light for your first few treatments.
🍑 Treat
Wear protective glasses, hold down the operation button and place the application window against your skin. Two flash modes can satisfy your demands on different hair removal parts. The manual mode is mainly used for small and sensitive areas such as bikini lines, armpits, lips, etc. The auto mode with continuous flash can be applied to larger areas such as butt, arms, legs, stomach, and back.
⚠️ Do's and Don'ts
· Please wait for your skin to completely repair before using the IPL epilator if you get a sunburn.
· It is necessary to wear protective glasses in the treatment process and all our products come with a pair of complimentary protective glasses to prevent your eyes from being stimulated by strong light.
· Do not use the IPL epilator over tattoos, birthmarks, scars, or large and dark moles.
· It is strictly forbidden to look directly at the flickering light in the treatment process.
· Do not use the IPL epilator around the eyes, eyebrows, nostrils, and ears. Be careful not to irradiate the hair directly while irradiating the face.
· Do not use the IPL epilator on or near any artificial implants, such as breast enhancement silicone, cardiac pacemakers, hypodermic needles, etc.
· Do not exfoliate your skin within one week before and after treatment as exfoliation may make your skin more sensitive.
Possible Side Effects
Just like laser hair removal, if it's your first time using the IPL epilator or if your skin is very sensitive, you may experience a few side effects after the irradiation. But be aware that the majority of them should be very minor and also temporary. Make sure you strictly follow the user guide and if it still has a great side effect, please discontinue use and contact us.
– Redness and Irritation
During the treatment, the light will be selectively absorbed by the hair follicle and thus damage the hair follicles of the area that you have targeted. That is why our skin might appear slightly red and swollen. That's not something to worry about because the symptoms are only temporary.
– Skin Dryness and Itchiness
You might experience skin dryness and itchiness as you need a shave before treatment and that can cause skin irritation. Apply some body moisturizer, and normally the dryness and itchiness will subside with time.
– A Change in Skin Color
You might experience some minor changes of color in those areas that have been treated. Your skin might get a bit darker or lighter. Those that will experience the darker kind of changes are people that have a lighter type of skin and those with dark skin will experience lighter pigmentation changes. The changes though tend to fade away with time.
Some rare side effects can occur after treatment such as burns and blisters or melanotic pigmentations if the hair removal is not done in a correct manner. Therefore, please always bear in mind to seriously and carefully read and follow the user guide to prevent severe side effects.
After-Care
– Skin Care
· If you notice some redness and swelling after treatment, apply an ice pack or cooling gel, or rinse the treated area with cold water, or just wait for it to cool by itself.
· If your skin feels dry and itchy after treatment, apply some body moisturizer or lotion that does not contain alcohol, Alpha Hydroxy Acid (AHA), Beta Hydroxy Acid (BHA), Azelaic Acid for moisturizing.
· It is no problem to take a shower as long as it is not too hot but does not use any shower gel within 48 hours after treatment.
· Please avoid direct sun exposure within 48 hours after treatment and sun protection is required when going out.
· It is recommended not to swim or exercise vigorously within 24 hours after treatment.
· It is no problem to shave after treatment if you don't notice any side effects but we do not suggest you wax off, pluck out or tweeze your hair during the treatment process.
– Instrument Maintenance
· Please power off the epilator in a timely manner after use, and wait for it to cool down naturally.
· Carefully wipe with a cotton swab or cloth lightly moistened with water or alcohol and ensure that the optical filter is undamaged after each use.
· Please always keep the epilator and adapter in a dry and clean place and out of children's reach. Do not use the epilator in a watery environment.
· Do not rinse the epilator and accessories directly with water.
· Do not expose the epilator to the sun or to an ultraviolet lamp for a long time.